Women's Ministry includes several activities led by our Women. One similarity is that we are all women with a Love for God and a passion to know Him more! Women's Ministry Small Group which meets Tuesday mornings, September – May at 10:00 a.m. in the church fellowship hall. Women 18 years and up are invited to attend! Nursery and Story hour are provided for ages 0-5 years for the morning Small Group. The evening small group meets every other Tuesday at 6:30-8:00 PM at Char Dillender's home.
​
​
Women's Ministry Small Group meets on Tuesday mornings at 10:00 AM, in the church fellowship hall. C
hildcare is available.
CURRENT BIBLE STUDY:
Resumes September 5th
​

, 2023

​

Women's Ministry Small Group resuming

September 5th

​

at 10:00 am.
​

Jesus and Women – Bible Study Book: In the First Century and Now

​

by Kristi McLelland

​
Imagine walking the dusty roads of Galilee with Jesus of Nazareth—braving jostling crowds just to touch the edge of His cloak and hear Him say, "Take heart, daughter, your faith has healed you."
Those words, once meant to comfort a hurting woman's soul thousands of years ago, were also meant for you. Join biblical culturalist Kristi McLelland on those dusty roads as she transports you back to Jesus' world, following in the footsteps of the women who came face-to-face with the Living God. Over 7 sessions, examine the historical and cultural climate of first-century Middle Eastern society to not only understand Jesus more deeply but to fuel your worship of Him today.
​
About the Author
Kristi McLelland is a speaker, teacher, and college professor. Since completing her Masters in Christian Education at Dallas Theological Seminary, she has dedicated her life to teaching people how to study the Bible for themselves, discipleship, and writing about how God is better than we ever knew by explaining the Bible through a Middle Eastern lens. Her great desire for people to truly experience the love of God has birthed her desire to lead biblical study trips to Israel, Turkey, Greece, and Italy.

​
​
Women's Evening Small Group meets Scheduled Tuesdays at 6:30-8:00 PM,
Char Dillender's Home.
CURRENT EVENING SMALL GROUP BIBLE STUDY:
Resumes September 19th, 2023
​
Women's Small Group resuming September 19th
​
​
at 6:30 pm.
​
​

Beholding and Becoming: The Art of Everyday Worship

​
by Ruth Chou Simons

​
Become What You Behold
You are in the process of becoming. Every day is an opportunity to be shaped and formed by what moves your heart…drives your thoughts…captures your gaze. Is it any wonder that where you direct your eyes and your heart matter in your day-to-day?
We become what we behold when we set our hearts and minds on Christ and His redemption story here in the details of our daily lives. Not just on Sunday, not just on holidays, not just when extraordinarily hard or wonderful things happen…but today.
Bestselling author and artist Ruth Chou Simons invites you on a new journey to Beholding and Becoming. With more than 850 pieces of intricate, original artwork, Ruth encourages you to elevate your gaze to the One who created all things.
Today is an opportunity for God to demonstrate His love and His faithfulness in the midst of your mundane. No circumstance is too ordinary or too forgotten for Him to meet you there in worship. His transforming grace turns your "everyday ordinary" into a holy place of becoming.
​
​
About the Author
Ruth Chou Simons is a Wall Street Journal bestselling author, artist, writer, entrepreneur, and speaker. As author of the bestselling book GraceLaced and creator of the popular GraceLaced online shoppe, blog, and Instagram community, she shares scriptural truths daily through her hand-painted artwork and words. Ruth and her husband, Troy, live on the western slope of Colorado and are grateful parents to six sons—their greatest adventure.

​

​
Hume Lake
The Women's Retreat provides a weekend with new and old friends sharing times of fellowship, reflection, and laughter. We stop at nothing to provide: fabulous food, a variety of recreational activities, craft sessions, inspiring worship, as well as solid biblical teaching. The fall women's re
treat was an amazing weekend (see video)! Keep an eye out for information on our Spring women's retreat, coming soon!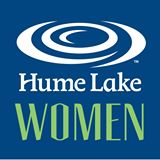 For questions, please contact the church office at 847-5692.