Adult Small Group meets on Sunday mornings before our worship service for the purpose of gathering together to study, expound, and invite the Spirit to reveal scripture to us.
Adults' Small Group meets on Sunday mornings at 8:45 AM
in the church fellowship hall.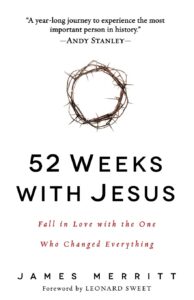 The Adult Small Group will resume its study Sunday, January 8, 2023 and you are cordially invited to join us. The study is entitled:
52 Weeks with Jesus, Fall in Love with the One Who Changed Everything
, by James Merritt. It is a year- long journey designed to experience the most important person in history. We gather at 8:30 AM, before church, for a cup of coffee and a little social catching up, and the study begins at 8:45 AM. We break at 9:45 AM to get ready for church. If interested, please contact the church office. We hope you will join us.
NEW BIBLE STUDY:
Resumes Jan 8th
​
Adult Small Group
​
meets on Sunday mornings at 8:45 AM
​
52 Weeks with Jesus: Fall in Love with the One Who Changed Everything by Dr. James Merritt
Jesus Christ is the most influential human to ever walk the earth. We've heard and seen so many depictions of Him that we think we know Him better than we actually do. If we took the time to really look at Him, we might be surprised at what we'd find.
In 52 Weeks with Jesus, author and pastor James Merritt leads you on a transformational journey as he shares what he's learned over a lifetime of studying Jesus' life and ministry. As you join Dr. Merritt on this journey, you will come to know and encounter Jesus in new and surprising ways and be inspired anew to embrace His invitation, "Come, follow Me."
Filled with practical applications and surprising truths, this book will help you more ably answer that ancient question that's as timely today as when it was first posed: "Who do you say that I am?"
About the Author
James Merritt (PhD) is a pastor, author, past president of the Southern Baptist Convention, and host of the Touching Lives television program, seen nationwide and in 122 countries. As a national voice on faith and leadership, Merritt has been interviewed by Time, Fox News, MSNBC, and 60 Minutes. He resides with his family outside Atlanta, Georgia.