Adult Bible study isn't meeting this Summer, check the church calendar for when it starts again in September!
Adult Bible Study meets on Sunday mornings before our worship service for the purpose of gathering together to study, expound, and invite the Spirit to reveal scripture to us. Our current study is Nancy Guthrie's "The Promised One".
The Wisdom of God
Wouldn't you lov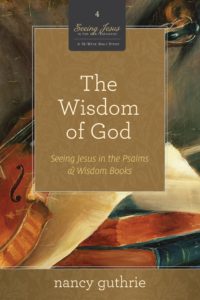 e to be wise and know the God who is Wisdom himself? This 10-week study of Job, Psalms, Proverbs, Ecclesiastes, and the Song of Solomon mines the Wisdom Literature not only for wise principles for living, but also for the wise person these books point to through their drama, poetry, proverb, and song—Jesus.
Bible teacher Nancy Guthrie provides clear commentary and contemporary application of biblical truths found in the Wisdom Books regarding:
how God guides us
how we can make sense of our suffering and our dissatisfaction in life
how to deal with our uneven emotions, our need for security, and our longing to be loved
Gain a fresh perspective on the Wisdom Literature, a broader understanding of Jesus as the fulfillment of Scripture, and much more, when you join with Guthrie on this incredible journey to see Jesus in the Old Testament!
Adult Bible Study meets on Sunday mornings from 9:15 a.m. to 10:15,
in the church fellowship hall. The (optional) video portion of the Bible Study is shown at 8:30 each Sunday, in the church fellowship hall.